How much space will I need?
We offer self-storage units in many different sizes so you only rent as much space as you need. From the size of a closet to a large garage you can choose a self-storage unit that's just right for your storage requirements. Too small and you won't be able to fit all your items and too big and you'll be wasting money on space you're not using.
You can, after all, always increase or decrease the self-storage space you rent according to your needs so it's important to decide if you'll need to change in the short term. For example, if you're storing some items in a self-storage unit for a few weeks before need to add other things and increase your size requirements, it may be worth your while to rent a slightly larger unit that will hold everything. The extra rental costs you'll pay for those few weeks might compensate for the alternative of having to repeat all the time and effort of moving your stuff into storage in the first place.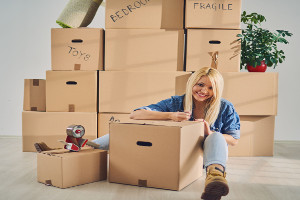 The best thing to do is to call us (847-658-9505). We can make sure that you get the space that fits your needs. It's in our best interests to make sure that you rent self-storage space that suits you, both in the short and long-term. We are extremely experienced at assessing what will fit into each space and will be able to factor in any extra issues such as space needed for aisles and other general access.
Feel free to stop in and discuss your needs or take a look at any of our available units
There are a variety of tips that will help you with the process:
Measure the length, width and height of the largest item you need to store. This will show you the smallest unit size you could use.
If you're storing the entire contents of your house let us know how many bedrooms you have, as this is a good indicator of space needed.
If you're storing everything in boxes, tell us the size of box and how many you have – we can then make an estimate based on the best unit size.
If you have room in, for example, a garage or a spare room put all of your boxes and storage items in it as if you were storing it so you can see how much space it takes up.
Click HERE for a complete list of Unit Sizes and Prices.